Time Travel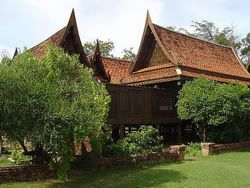 I often struggle with the decision of where to take friends and visitors who come to Bangkok, especially those who have been to Thailand before and have seen all the standard tourist fare that Lonely Planet has to offer. Frankly, I can't stomach too many more visits to the Grand Palace or any of the dozens of temples scattered around the Chao Phraya River.
I also have difficulty generating any enthusiasm to venture out on the weekends, since I would probably have an easier time counting motorcycle taxis on Sukhumvit than I would the number of times I've hung out at a Central shopping center or the Weekend Market.
As much as I enjoy living in Bangkok, its become almost depressing to see how few stimulating, engaging diversions there are in Bangkok's environs that don't require half the day to get to.
That changed on Saturday when I visited Samut Prakan's Ancient City.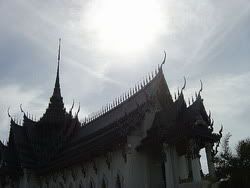 Over the weekend, my company held a Family Day for its management & their families at Muang Boran (The Ancient City) in Samut Prakan. While not exactly in Bangkok proper, Samut Prakan is close enough to Bangkok's outskirts that you can get there in less time than it would take to get a few blocks on Sukhumvit in Friday night traffic.
The Ancient City can best be described as a cultural theme park with a smattering of petting zoo thrown in for good measure. The park features stunningly hyper-realistic recreations of ancient temples, homes and other works of architecture, organized around the park according to geographic region. When my wife tried to describe Muang Boran to me, I immediately pictured the faux simulacrums of Legoland or Las Vegas' New York, New York. Instead, I saw temples re-created with such meticulous care and authenticity that they weren't so much copies of art as they were masterpieces themselves. One temple was a recreation of one destroyed by the Burmese in some ancient battle, and was designed after consulting as many historical texts and ancient letters describing the original temple as could be found to ensure maximum accuracy (and was in fact used by the King of Thailand to receive England's Queen Elizabeth during one of her past visits).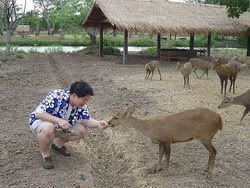 What was truly amazing is that it is one of the few attractions in Thailand that strives to be cultural and educational rather than commercial. My wife told me that the land and money for construction had been provided by the tycoon who made his fortune importing and assembling Mercedes Benz autos in Thailand, and that the Ancient City was a labor of love, resulting from the donor's deep passion for history and architecture (he also founded the Erawan Museum, just up the street from the Ancient City. He was also reputed to have spent his last years living in one of the park's recreated traditional homes).
There were no huge throng of tourists, no cheesy souvenir stands, no McDonalds or Starbucks. Just lush green grass, a small river, over 160 buildings and structures, and even herds of deer (the founder also loved animals) that guests are invited to feed bananas (for a donation, and not for some over-inflated sales price). It was a bloody sanctuary, a welcome respite from Bangkok's hustle & bustle. How I've never heard of this place before is beyond me, but I would have no problems if it remained the best kept secret in Bangkok. The wife and I plan on visiting again, inviting friends, renting bicycles, and picnicking on the grass.